Hours per week 1-3

Levels 6

American English
Abracadabra plays with our senses, using mind-bending optical illusions to encourage children to question what they see and experience – and to share and discuss with their families! The course is based on the Lexical Approach, involving constant use and recycling of language in fun, friendly, colorful contexts, so students can use it naturally, meaningfully and successfully. There is no explicit grammar, because as learners are exposed to language and use it, they start to discover for themselves how language works.
Abracadabra also develops the four language skills, practicing listening, speaking, reading and writing.
Sample unit

Scope & sequence
With Abracadabra, students will:
explore optical illusions and question how they work, developing their visual and critical thinking skills!
practice pronunciation and intonation using the recorded Pictionary words as models, along with dialogs, songs and chants.
challenge their math knowledge in English, with a page of Math Puzzles each unit!
learn everyday expressions in the Functional Language section.
reflect on values, while reading and listening to the Comic strips.
enjoy learning English with colorful resources like board games, Spot the Difference posters, cleverly-designed Holiday Fun handicrafts, and color-in Word Cards!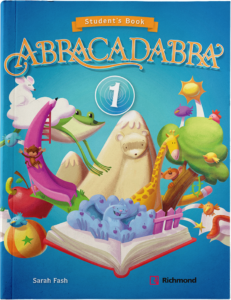 Student's Book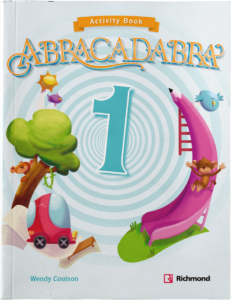 Activity Book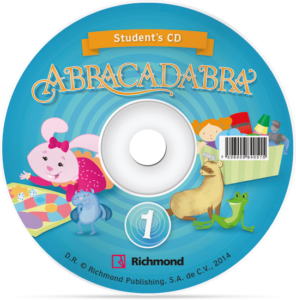 Student's CD
Learn more about Abracadabra:
Student's Book
The Student's Book has nine units, with four double-page lessons full of lively illustrations and photos to help students' understanding. Students practice the vocabulary and structures through a wide range of fun, motivating activity types – including Math Puzzles, to keep them on their toes! A Review spread at end of each unit includes Functional Language, the optical illusions, and a self-evaluation. There is a Comic every three units, and a Pictionary and Holiday Fun handicraft cutouts at the back of the book.
Learn more about Abracadabra:
Activity Book
The new Activity Book has a clear, comprehensive structure – its nine units review, recycle and consolidate the language presented and practiced in the Student's Book, making it easy and predictable enough for children to work on it independently. The four lessons focus on vocabulary, language structures, reading comprehension and writing. The Review lesson at the end of each unit consolidates the previous lessons, as well as practicing functional language.
Learn more about Abracadabra:
Student's CD
The students' CD contains recordings of all the songs, functional language dialogs, comic strip stories and Pictionary words, recorded by native English speakers, so they can continue to practice out of the classroom. Students can download the audio in MP3 format from the RLP, too.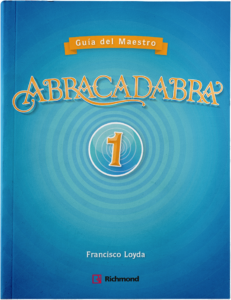 Teacher's Guide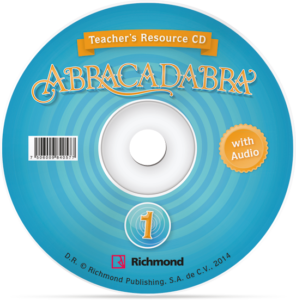 Resource CD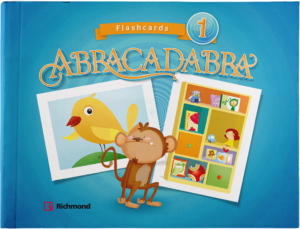 Flashcards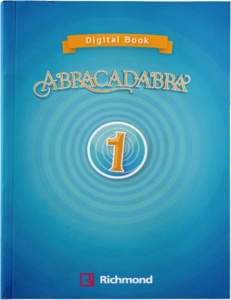 Digital Book
Learn more about Abracadabra:
Teacher's Guide
Your interleaved, Spanish-language Teacher's Guide gives you simple, step-by-step instructions for planning and presenting each lesson, from the introductory activity to extension activities, when and how to introduce the Flashcards and Projectable Posters, and getting the most out of Abracadabra's resources. In the introduction, we cover: background information on the course methodology; how to present vocabulary and functional language; helping students' self-evaluate; working with the Holiday Fun crafts, Comics and songs; and lots of classroom games and activities; as well as classroom management and grammar tips.
Learn more about Abracadabra:
Resource CD
This resource package consists of three different media: i) all the class audio, recorded by native English speakers as a model for pronunciation and intonation; ii) editable and/or photocopiable resources, including start-of-year activities, Fast Finisher worksheets, Extra Holiday Fun activities, and Tests; and iii) digital Comics, Posters and Flashcards for projection in class.
Learn more about Abracadabra:
Flashcards
Flashcards illustrate the target vocabulary in every unit, to help you present new words and language. Your Teacher's Guide explains when and how to use them, and gives suggestions for using them in games, too!
Learn more about Abracadabra:
Digital Book
This interactive book with audio and a simple toolbar helps students develop digital and oral competences and encourages collaborative learning. You and your students can zoom in to any area, and write in answers, color and match with the intuitive tools.
ISBN
| For Students | Level 1 | Level 2 | Level 3 | Level 4 | Level 5 | Level 6 |
| --- | --- | --- | --- | --- | --- | --- |
| Pack Abracadabra (SB+CD) | 7506009840263 | 7506009840270 | 7506009840287 | 7506009840294 | 7506009840300 | 7506009840317 |
| Activity Book | 9786070615795 | 9786070615825 | 9786070615900 | 9786070615979 | 9786070615818 | 9786070615870 |
| For Teachers | Level 1 | Level 2 | Level 3 | Level 4 | Level 5 | Level 6 |
| Pack Abracadabra (TG+Res CD) | 7506009840638 | 7506009840645 | 7506009840652 | 7506009840676 | 7506009840669 | 7506009840683 |
| Flashcards | 9786070609350 | 9786070609374 | 9786070609367 | 9786070609398 | 9786070609381 | 9786070610097 |
| Digital Book | 9786070612985 | 9786070613005 | 9786070613029 | 9786070612749 | 9786070612961 | 9786070612954 |